UNICAN's...it's Cedar Grove UNICO's
16th ANNUAL GOLF OUTING
Friday, June 16, 2017
¤ We need SPONSORSHIPS @ $100 and GIFTS as soon as possible
¤ Goal is 100 sponsorships – all members should solicit at least 1 SPONSORSHIP
¤ SELL 1 or TAKE 1 so that we can reach our goal
¤ We need your help.
GOLF COMMITTEE:
Greg Salerno - 201/401-3727
John Matera - 973/239-2871
Mike DeFrancisci - 201/723-4738
CLICK HERE for a printable brochure
CEDAR GROVE CHAPTER 5TH ANNUAL CIGAR NIGHT FUNDRAISER FOR THE WWP
IN PARTNERSHIP WITH THE BLOOMFIELD, PASSAIC VALLEY AND PEQUANOCK CHAPTERS
Friday, May 12, 2017 - 7:00pm
Tickets: $50.00 - Includes food & a chance to win a great prize.
"BYOB"
Location:
The Metropolitan Society
1275 Bloomfield Ave., Fairfield, NJ
Pio Costa Complex - Bldg #8
CIGARS SOLD BY RICH
CIGAR EMPORIUM
LYNDHURST, NJ
CLICK HERE for a printable Flyer
My Fellow Cedar Grove Unicans,
As you know the main purpose of the Cedar Grove UNICO organization is to serve others and to give back to our community. The motto of "Service above Self" should be a reminder to all of us as to why we became members of this most worthy organization.
As you know serving others and giving back to our community requires a commitment on the part of every Cedar Grove UNICO member. We as an organization in the past have given back generously to countless individuals and service groups who were in need of our help. North End School, South End School, St Catherine's, the public library, Rescue squad, Fire Department, Little League Baseball (both boys and girls) and other groups have directly received funds from Cedar Grove UNICO. Our township graduates and their families have also benefitted from our Scholarship Awards Program.
All of the support that we give would not be possible without raising funds to sustain these programs of service.
The Cedar Grove Executive Board has decided to establish a "Super 50/50 Raffle". 50 % of all proceeds will be awarded to one winner. The remaining 50 % will help fund our various charitable programs.
There will be only 300 tickets sold at a cost of $50.00 per ticket. The winning ticket will be drawn at our Awards Night on May 24, 2017. Each member is asked to purchase at least 2 tickets for the drawing. Enclosed are your 2 tickets. It is our sincere hope that you will sell additional tickets to family, friends and co-workers. Please send the proceeds to our mailbox at:
Cedar Grove UNICO
PO Box 27
Cedar Grove, New Jersey 07009
If you need additional tickets, please contact Richard Orsini at 973-953-1947
or e-mail him at catrit@aol.com.
Please know that we need each and every member to do his or her part to insure the success of this fund-raiser. Don't make the mistake in thinking that your participation is not needed.
Please DO NOT send back any unsold tickets. Let's all get behind this effort to help make a difference in our community and to be recognized as an organization that truly puts "Service Above Self". Thanking you in advance for your participation.
Cedar Grove UNICO Executive Committee
Cedar Grove UNICO will award up to four (4) $1000 scholarships as follows:
AWARDS: (3) Three General Academic Achievement Awards in the names of Al Zatorski (Arts), Joseph & Grace Maione and Anthony Ricciardi (Academics) and (1) one Brian Piccolo Scholarship/Athletic Award.
Academic Awards Eligibility: Three (3) Scholarships
1- Applicant must be an Italian American or the child of at least 1 parent of Italian heritage.
2- Applicant must reside in Cedar Grove or attend school in Cedar Grove, New Jersey or be an immediate family member of an active member of Cedar Grove UNICO.
3- Applicant shall be a senior class member who will attend an accredited institution of higher learning or other accredited degree-granting institution in the ensuing year.
4- Financial Need will be considered and the applicant must submit the reason for the need, ages and numbers of any siblings attending school.
5- Extra Curricular Activities and Community Service projects should be detailed as to the activity, length of time involved, hours participated either daily or weekly, the beneficiary and what the applicant learned from the activity. This is to include any clubs, sporting activities and or employment.
6- Children of Cedar Grove UNICO members are eligible. Applicants of those members will be judged according to the same merits as outlined in this document.
7- Applicant will submit a copy of their high school transcript, GPA and SAT or ACT scores.
8- Applicant will submit two letters of recommendations with one coming from a high school teacher or counselor and the other from someone other than a family member. A high school representative must sign all letters of recommendation.
9- Applicant must submit an essay of 250-500 words expressing why they should be considered for this award. If the applicant announces a Major field of study (pg. 3) include why this field of study was chosen. The essay will be typed-double spaced and signed.
CLICK HERE for more information and the application
In October 2015 ,Anna Semioli a 22 year old Montclair State University student was struck by a vehicle on Rt. 46 in Little Falls, NJ. Semioli suffered life altering injuries due to the accident and has been in a coma ever since. Unico's past President Rich Orsini took up the cause and enlisted the chapters help to raise funds to defer her families enormous medical bills.
Within a very short time period, Rich organized a 50/50 fundraiser and with the help of the chapter raised in exces of $32,000 which was all donated directly to the Semioli family.
The below letter was received from the Semioli family in appreciation of the chapters efforts.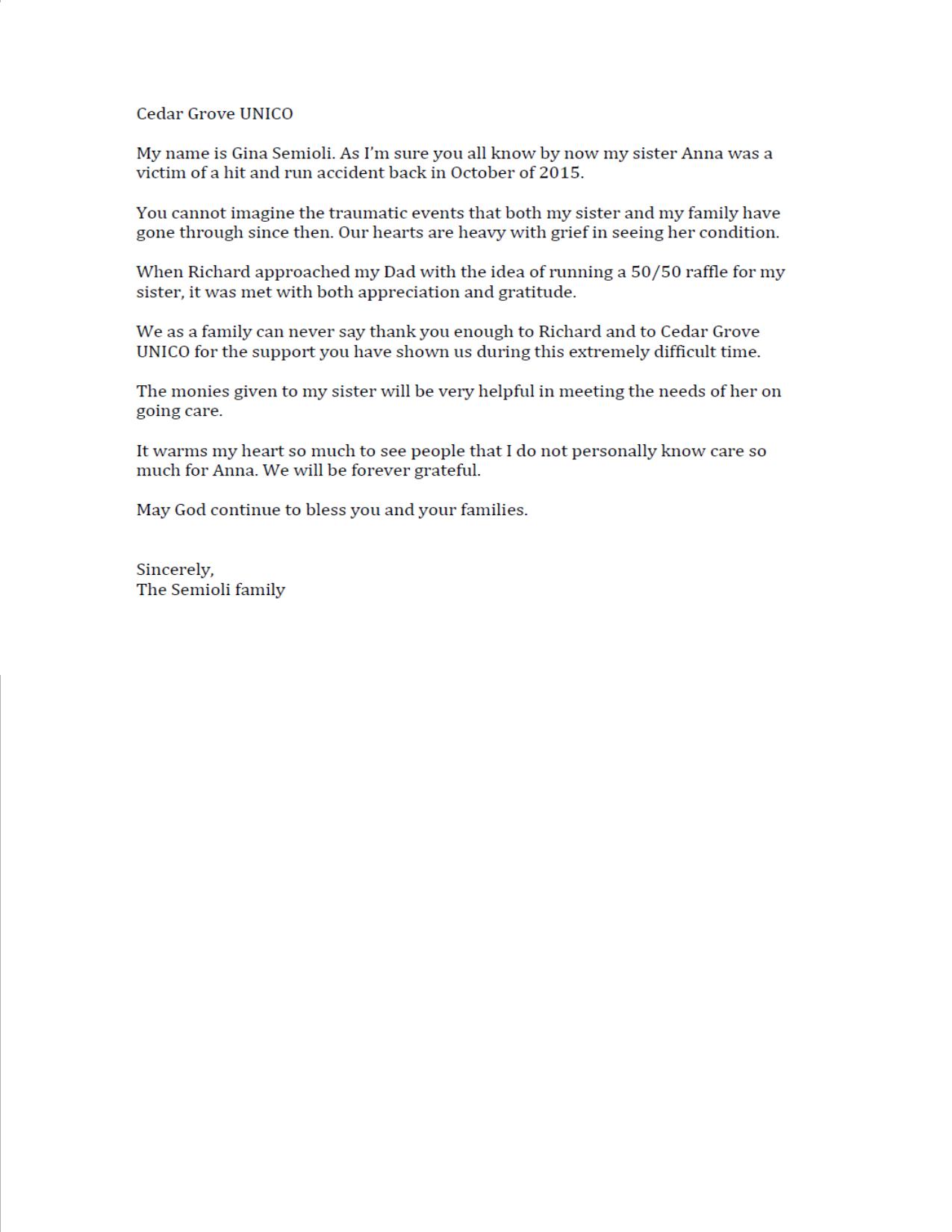 There is so much that we, as Americans, are thankful for. We have been given the freedom to voice our opinions, pray to whichever God we believe in, and marry the person we love. Not all people are given such blessings, so remember to keep them in your prayers at your table today. Keep the people of Paris and France in your thoughts. Most importantly, remember all our service men and women stationed all around the world. It is their sacrifices (and those of their families) that allow us the freedom to live in a safe Country.
Spend quality time with family and friends during this holiday season. Remember to tell the people you love, how important they are to you.
Continue to do the wonderful work of giving back, the foundation of what Cedar Grove UNICO is built upon. I am so proud of our Chapter and how we demonstrated that on Tuesday night. We donated 597 turkeys to St. Lucy's in Newark, along with cases of mashed potatoes and stuffing. It's humbling to be able to give all those people a warm and healthy meal to share with their families today. It is because of you that we were able to accomplish this.
On June 25th, 2014 we swore in our new executive board for the 2014-2015 calendar year. Below is our new executive board:
Pat DeFransci, President
Amy Tufaro, Executive Vice President
Steve DeStefano, Vice President
Tom Perri, Treasurer
William LaRusso, Secretary
Cheri DiPrenda, Sergeant-at-Arms
Richard Orsini, General Counsel
Bill DiPietro, Membership